We're thrilled to announce two significant milestones at Lendermarket! Firstly, we've reached an impressive total account value of €50 million, and secondly, we've successfully onboarded our 5th loan originator. We're launching an unprecedented Summer Cashback Campaign to celebrate these achievements, offering investors up to a generous 5% cashback on their investments. In our endeavor to continuously reward our investors and attract new ones, this is the highest cashback offer we've ever initiated. The reasoning behind this campaign lies in the shifting financial market dynamics and our commitment to growth and delivering value.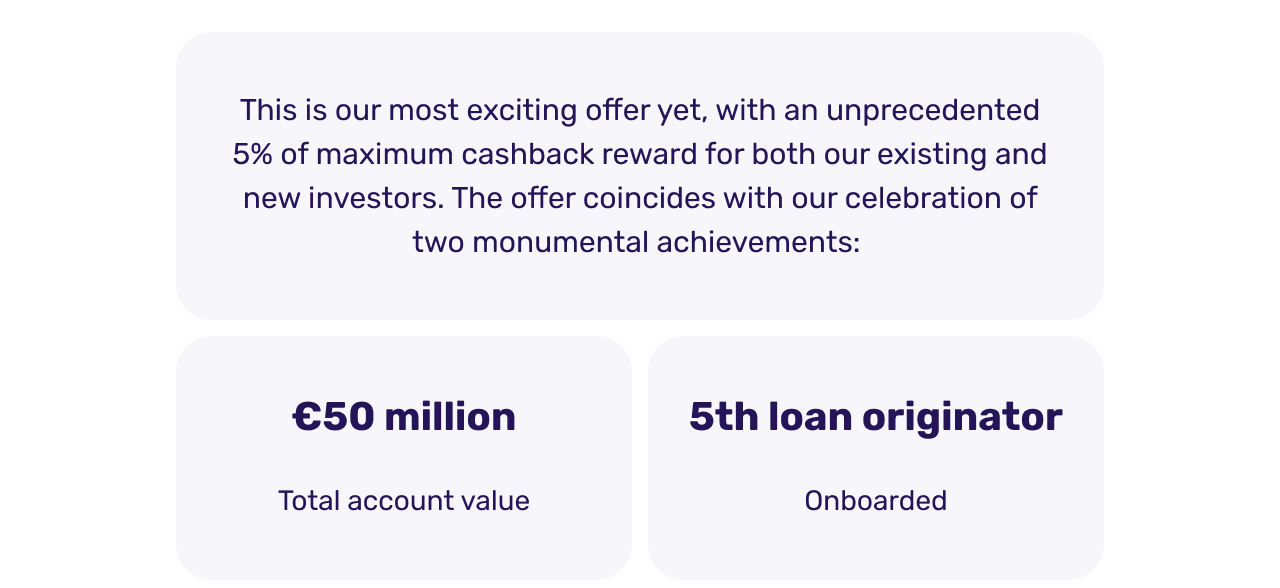 Limited Time Offer background
The primary reason behind this move can be traced to the recent changes in the risk-free interest rates by the central bank. This has sparked a heightened level of competition amongst retail banks, as they strive to keep pace by increasing their deposit interest rates. With these changes afoot, we at Lendermarket recognize the need to match, and indeed exceed, these shifting dynamics to offer a more attractive package to our investors.
However, the need for this campaign goes beyond merely matching our competitors. It is rooted in our strategic growth plans for the platform and the desire to provide unparalleled value to both investors and loan originators alike. Lendermarket has been steadily adding Loan Originators to our platform – with currently five of them – fostering a thriving ecosystem of growth-oriented companies looking to grow. These companies are integral to our platform, and their success is directly linked to ours.
The continuous flow of investment capital now standing at €50 million from our investor community serves as the essential fuel powering these businesses, enabling them to expand, innovate and deliver quality credit products. But with the rising interest rates, there's an increased risk of capital being diverted to traditional retail banking. By providing an attractive up to 5% cashback, we aim to maintain the steady flow of investment that these businesses need to thrive, while simultaneously offering our investors the opportunity to earn more from their investments.
Furthermore, this campaign exemplifies our proactive and assertive approach amidst the current demanding financial environment. By launching  this Exclusive Summer Offer, our intention is to create a win-win scenario for all parties involved. By offering the highest cashback ever, we're hoping to incentivize more investors to come onboard, contributing to the growth of the platform while enjoying higher returns on their investments.
In conclusion, the Lendermarket Exclusive Summer Offer is a strategically devised initiative meant to drive investment, promote the growth of Loan Originators on our platform, and offer superior returns to our investors. Despite the changing financial landscape, we remain dedicated to fulfilling our commitment to providing unmatched value.
We're thrilled to have you join us on this exciting journey and look forward to celebrating our mutual successes in the near future. Happy Investing!